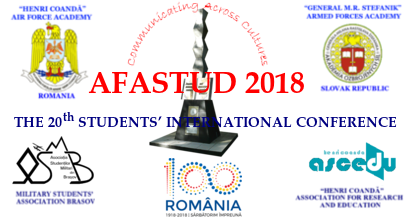 Conference main purpose
AFASTUD 2018 Conference is organized to disseminate the students' academic research within the mentioned fields. The scientific event also aims at identifying the most appropriate ways to spread, promote and render the students' academic research results.
All the scientific papers will be peer-review evaluated by the members of the scientific committee. The accepted papers will be published in the AFASTUD 2018 Proceedings, on CD. Furthermore, the best 20 papers will be comprised within an ISSN review and posted on the academy website.
Location
AFASTUD 2018 Conference will be held at the following venue: "Henri Coandă" Air Force Academy, 160 Mihai Viteazul Street, Braşov, 500183, Romania, phone: +40 268 423 421, fax +40 268 422 004
Event structure
AFASTUD 2018 will be structured in three parts:
- plennary openning;
- scientific papers presentations on panels;
- socializing activities.